Product
Full Automatic Capping Machine (With Conveyor)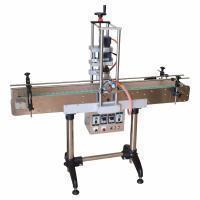 LK-780C Full Automatic Capping Machine (W/ Conveyor)
Product ID: LK-780C
What is "Capping Machine"?
Capping Machine is used for all kinds of metal, glass and plastic bottles, which with the exceptions of crowns, ROPP(Roll-on Pilfer Proof) and straight wall corks style closures. It tightens screw caps from 10mm~120mm in diameter, and provides outstanding repeatable torque accuracy ensuring a high quality closure for every cap that they tighten. Designed to eliminate the strain and fatigue of hand capping, our capping machines are a customer favorite for a very simple reason-they make capping easy.
Specifications:
■ Application: Screw caps, lug caps, flip top caps, safety caps, child proof caps, sport caps
■ Voltage: 220VAC 50/60Hz, Single phase.
■ Pneumatic supply: 6~8 kg/cm2.
■ Variable Speed Conveyor
  ▲ Conveyor Length: 1.5 meters.
  ▲ Conveyor Belt: Width 100mm plastic chain.
  ▲ Loading/Conveyor Height: 800±50mm from floor.
  ▲ Speed of Conveyer: 0-12m/min. (Adjustable as required)
 ▲ Standard model can be custom-made to meet the requirement of any bottle specification.
■ Capping Machine
  ▲ Tightens caps from 10mm~120mm.
  ▲ One set of standed chuck.
  (Variable chuck sizes for different size closures is available for option)
  ▲ Torque range is adjustable as required.
  ▲ Quick change chuck for different size closures.
Features:
■ No complex parameters need to set.
■ Intuitional and human design of control interface.
■ Easy learning and operating for un-technique user.
■ Heavy Duty 304 Stainless Steel / Aluminum Frame.
■ Loading/Conveying Direction: Left to right if facing front of machine.
■ Air supply (2HP+) required for pneumatic operation. The compressor not provided & buyer must have own.
Order Information:
Minimum Order: One Set
Branded Product, Buyer's Label Offered
FOB: Any Port of Taiwan
Contact Detail
| | |
| --- | --- |
| CEO: | Mr. Kevin Shih |
| Address: | No. 20, Lane 600, Xinguan Road, Puxin Township, Changhua County 51343, Taiwan (R.O.C.) |
| TEL: | 886-4-8281838 |
| FAX: | 886-4-8281837 |
| Email: | sales@likai-tech.com |
| URL: | |
| ZIP: | 51343 |