Product
Full Automatic Aluminium Foil Punching & Feeding Machine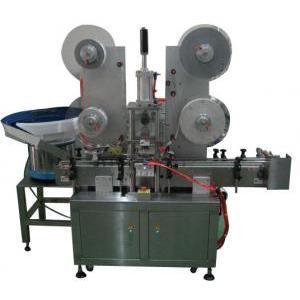 Full Automatic Aluminium Foil Punching & Feeding Machine
Product ID: LK-870(R)
Full-automatic work, by aluminum foil reel and release material tape, simultaneously punching and insert to cap automatically.
Including Missing Foil Detection Module, 12 Liter Pneumatic Barrel, Emergency Stop & Optical Fiber Detector.
To check that the product has had a cap fitted with an induction foil. In the even no foil is detected the produce can be rejected from the production line.
Punching & Feeding mold is exchangeable.
Custom specifications according to customer bottles are available to meet the requirement of any bottle specification.
Additional Change Punching & Feeding Mold for 2nd size of cap.
Specifications:
Voltage: AC 220 50/60Hz, Single phase
Pneumatic supply: 6~8 kg/cm2 30 Liter.
A mold with ONE cavity.
Length of Conveyor: 1500mm (Stainless Steel #304 Frame, Adjustable Side Guides)
Speed of Conveyer: 0-12m/min.( adjustable)
Vibratory Feeder: MB-38xφ600mm (SS-41, Silicon steel, SUS304)
Order Information:
Minimum Order: 1 Set
Branded Product, Buyer's Label Offered
FOB: Any Port of Taiwan
Contact Detail
| | |
| --- | --- |
| CEO: | Mr. Kevin Shih |
| Address: | No. 20, Lane 600, Xinguan Road, Puxin Township, Changhua County 51343, Taiwan (R.O.C.) |
| TEL: | 886-4-8281838 |
| FAX: | 886-4-8281837 |
| Email: | sales@likai-tech.com |
| URL: | |
| ZIP: | 51343 |